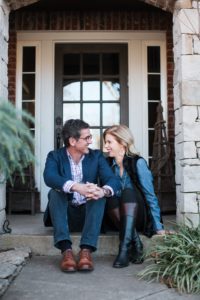 When wedding vows are spoken most couples are healthy and strong and have not walked through the thick and thin places with each other.
A few weeks ago the flu hit my husband head-on. Up to that point, I could count on one hand how many sick days he had taken in our 27 plus years of marriage. He ended up missing an entire week of work and I spent the week heating up soup, stocking up on tissues and cough medicine as well as rubbing down the house with Lysol wipes. We can take health for granted and a bout of sickness can be draining on the caregiver as well as the patient.
I come from a long line of women who rise to the occasion to be present in sickness and in health. My father survived a plane crash early in their marriage and mom was by his side throughout the six years of recovery with four children in tow. My paternal grandfather battled Leukemia for 7 years and my grandmother never complained as she cared for him in and out of remission. My maternal grandfather had some health challenges later in life and my grandmother made sure he was well taken care of in every way, culminating in leading him in a powerful prayer of salvation the night before he slipped into eternity. My mother-in-law selflessly took care of my father-in-law during his eight-year battle with Parkinson's Disease and dementia.
I've been blessed with the influence of these amazing women walking out their marriage vows. Strong women. Faithful women. Resilient women. Beautiful women.
I certainly don't mean to be overly dramatic after one week of helping my husband through the flu, but it got me thinking. I don't want to take health for granted nor do I want to shrink back from loving well during difficulty. I signed up for weeks like this and if you're married, you did as well.
On the days my kids were sick I almost shined the brightest as a mom. Selflessly caring for them night and day until they were healthy again. Somehow when my husband is sick it's different. I'm so used to him being the strong one. The one who never slows down. The one who selflessly provides for our family. The one who never misses work and cleans up after himself. (I married well!)
The week of the flu provided me the opportunity to empathize with those who are facing sickness every day. For their loved ones who are selflessly caring for them. And to rethink the vows I took in marriage all those years ago.
To have and to hold, from this day forward, for better, for worse, for richer, for poorer, in sickness and in health, to love and to cherish, till death do us part.
I want to receive this unconditional love from my husband and I desire to selflessly live these vows out as well.
It's easy to draw close in the good times but when we choose to in the difficult times, our love gets tested and strengthened. If we only give to those who can give back then it's not giving, it's loaning with an expectation of return.
In the words of Paul:
In everything I did, I showed you that by this kind of hard work we must help the weak, remembering the words the Lord Jesus Himself said: "It is more blessed to give than to receive." Acts 20:35
I pray that you and I experience more of the better days, the healthy days and the days of plenty. But we must grab onto the grace Jesus offers us when faced with the worse days, the sick days and the days of want.
Again in the words of Paul:
Three times I pleaded with the Lord to take it away from me. But He said to me, "My grace is sufficient for you, for my power is made perfect in weakness." Therefore I will boast all the more gladly about my weaknesses, so that Christ's power may rest on me. That is why, for Christ's sake, I delight in weaknesses, in insults, in hardships, in persecutions, in difficulties. For when I am weak, then I am strong.

2 Corinthians 12:8-10
Wow! Do you feel weak in an area of longsuffering today? Plead with Him to take away the difficult circumstances, but then stand firm and trust Him in the thick and thin places.