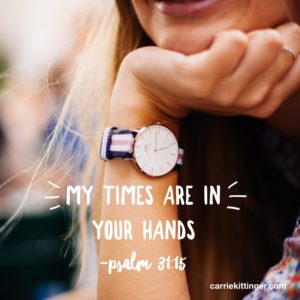 As I anticipate this year, I am reminded once again that time is a gift to steward. Last year, my family experienced some of our lowest depths ever, some amazing achievements, and lots of sweet and salty moments in between. We may feel like time is in our hands –  but the truth is –  our times are in the Lord's hands (Psalm 31:15). We cannot change the past or control the future, we can only live in the moment, submitted to the prodding of God's Spirit to the best of our ability. Not in legalism or in fear but in love. Not controlled by our hands but by the wind of His Spirit.
If a day is like a thousand years and a thousand years are like a day to the Lord (2 Peter 3:8), you and I should view time a little differently this year.
I sure don't want my year to be one big to-do list but I do want to utilize my time wisely. How did Jesus handle time while on this earth?
He responded to his mother's sweet push in John 2:4 with, "Dear woman, why do you involve me?" Jesus replied, "My time has not yet come." I love Mary's response in the next verse, "His mother said to the servants, "Do whatever he tells you."
It is vital to have people around us who recognize the ripeness of God's timing in our lives. It is said of the sons of Issachar that they understood the times (2 Chronicles 12:32). In as much as we can understand some of the times, we cannot understand all of God's timing. In response to the disciples' questions on when the end would come, Jesus responded with this:
He said to them: "It is not for you to know the times or dates the Father has set by His own authority."

Acts 1:7
On the other hand, Jesus responded to the Pharisees and Sadducees (the religious leaders of the day) who were demanding a sign with this:
You know how to interpret the appearance of the sky, but you cannot interpret the signs of the times.
The Greek word translated "signs" here could also be translated, "finger-marks of God". We all know how to tell if it's daytime or nighttime or whether it's stormy or sunny, but do we know how to see the finger-marks of God in the midst of our busy calendars? Jesus was right in plain sight of the religious and yet they missed Him. How many times do we miss the marks of God because we're so busy marking things off our list?
But do not forget this one thing, dear friends: With the Lord, a day is like a thousand years, and a thousand years are like a day. The Lord is not slow in keeping His promise, as some understand slowness. He is patient with you, not wanting anyone to perish, but everyone to come to repentance.

2 Peter 3:8-9
God created time for us to steward. He has gifted us with time not just to accomplish our to-do list but His. On top of His list and then to infinity and beyond is this: For everyone to come to repentance! Why? Because He loves us and gave His life for the world. Not just for me or for you or for America but for the world. He is compassionate, He is gracious, He is slow to anger, and He is abounding in love (Psalm 103:8).
But the day of the Lord will come like a thief.

2 Peter 3:10a
Let's live in holy fear (awe) of the Lord.
Let's view time through God's eyes this year.
Let's remember He desires ALL to come to repentance.
Let's represent His heart of love and truth to ALL.
Let's trust His hand and His timing.
Let's remember there is a day coming when the Lord will appear a second time.
What will we be doing when He comes for us?